Nº5 Bloom Godtbox
$139.00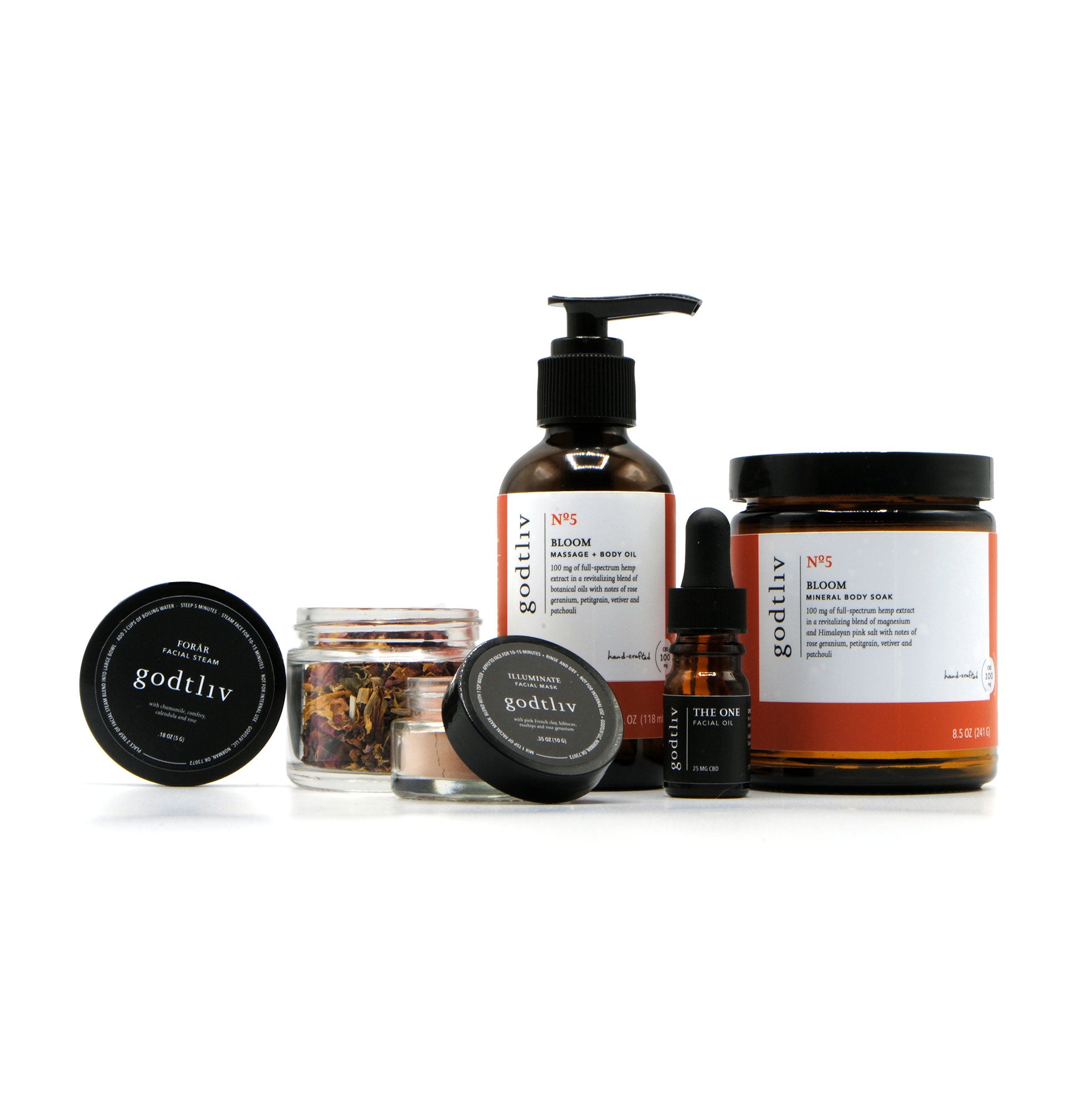 Nº5 Bloom features an uplifting blend of botanical oils with notes of rose geranium, petitgrain, vetiver, and patchouli. Each box contains provisions for four luxurious spa experiences that can be used in the comfort of your own home or to enhance professional spa services.
*All products are non-ingestible and for topical use only.
Each box contains:
8.5 oz (241 g) Nº5 Bloom Mineral Body Soak (100 mg CBD)
4 fl oz (118 mL) Nº5 Bloom Massage + Body Oil (100 mg CBD)
.18 oz (5 g) Forår Facial Steam (non-CBD)
.35 oz (10 g) Illuminate Facial Mask (non-CBD)
.17 oz fl oz (5 mL) The One Facial Oil  (25 mg CBD)
Lovely Gift
I received the Godtbox as a graduation gift and it was such a lovely surprise. Every product smells incredible and everything in the box was very high quality. I've really never gotten a gift like it and I would highly recommend it as a gift to anyone and everyone. It goes way beyond typical at-home spa treatment.
Ordering the Godtbox was one of the best things I have done for myself in a very long time. The box is beautifully curated, offering relaxation and restoration to your entire body. The care, intention, and craft behind the experience is so inspiring that I managed to *actually* unplug, focus on breathing, and clear my head to be present in a moment of well-deserved self-care. I can't recommend this box enough. Treat yo self! (or a friend/family member!)
Elegant products
I received my godtliv box for a Mothers Day gift. The face and body oil have the most wonderful scents! These are the best oils I've ever tried. They make your skin feel so smooth and the smell is the best!
Love it!!
I absolutely love love love your product!!! I work long hours and it's nice to be able to come home and take a relaxing bath with your stuff ❤️
The best money I've spent on ME in a long time.
1. You are a genius. 2. I truly feel relaxed. 3. The oils - OMG, the fragrance is incredible. 4. Imma need you to hurry up and make a daily facial cleanser. 5. Loved the entire experience.