Nº13 Origin Massage + Body Oil
$58.00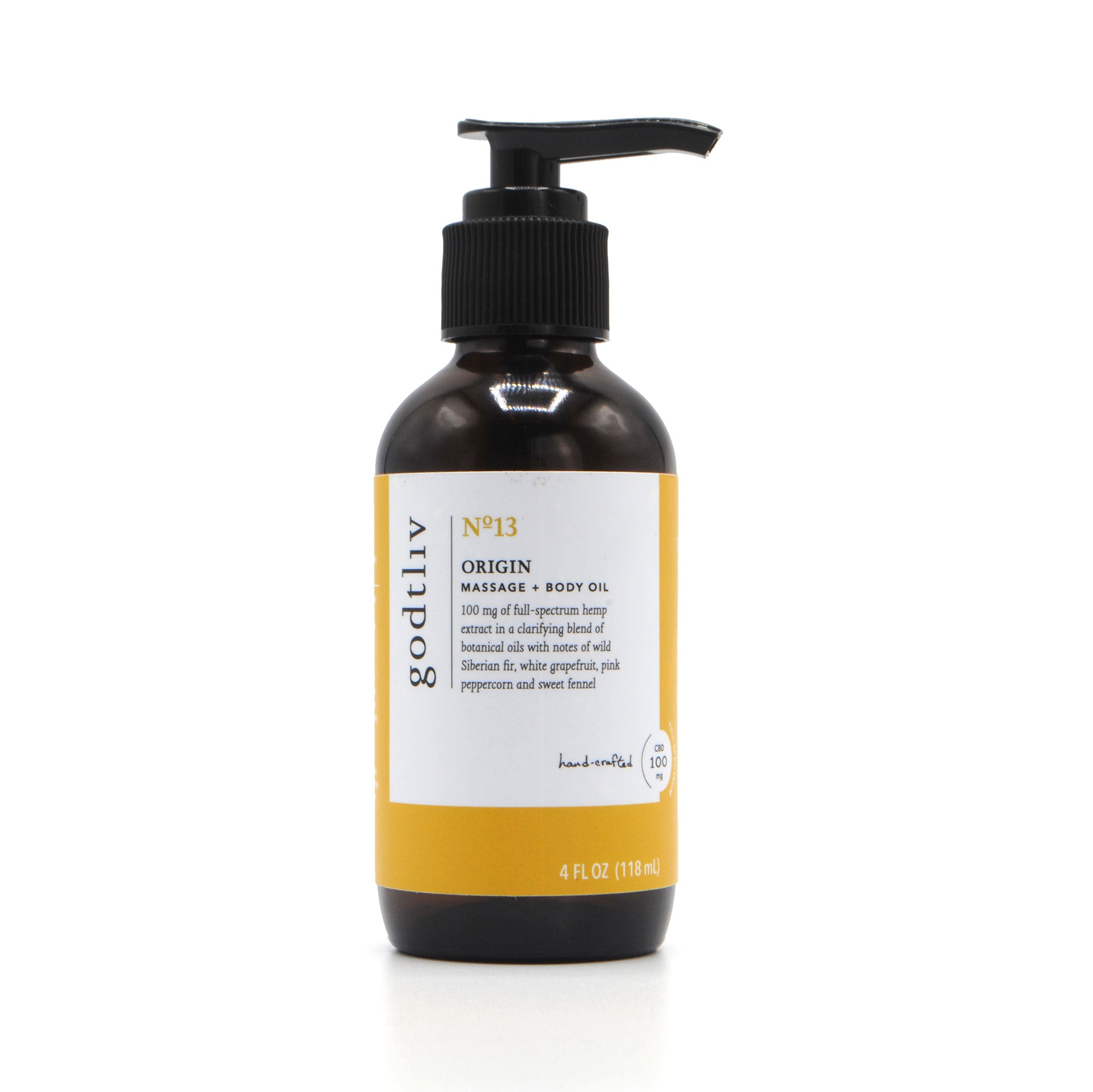 Nº13 Origin Massage + Body Oil features a clarifying blend of botanical oils with notes of wild Siberian fir, eucalyptus, white grapefruit, and pink peppercorn with a hint of ylang ylang infused in an ultra-nourishing base of meadowfoam seed oil, jojoba, and MCT oil. Godtliv's massage + body oils are designed to provide the perfect balance of "slip and grip" to enhance spa services or as a daily moisturizer to deliver rich hydration. 
Each full size bottle contains 4 fl oz (118 mL) Nº13 Origin Massage + Body Oil (100 mg CBD, non-ingestible)
DIRECTIONS: Apply directly to skin following bath or shower for daily hydration. For massage, use 1/2–1 bottle depending on your body's needs.
INGREDIENTS: Magnesium Sulfate, Sodium Chloride (Alaea Sea Salt), Caprylic/ Capric Triglycerides (MCT/Fractionated Coconut Oil), Organic Full Spectrum Cannabis Sativa (Hemp) Extract, Organic Arnica Montana (Arnica) CO2 Extract, Organic Citrus Grandis (White Grapefruit) Peel Oil, Abies Siberica (Wild-Grown Siberian Fir) Needle Oil, Organic Eucalyptus Radiata (Eucalyptus Narrow Leaf) Leaf Oil, Organic Chrysopogon Zizanioides (Vetiver) Root Oil, Schinus Molle (Wild-Harvested Pink Peppercorn) Fruit Oil, Organic Foeniculum Vulgare (Sweet Fennel) Seed Oil, Lavandula Angustifolia (High Elevation Lavender) Flower Oil,  Tocopherol (Vitamin E)